Over the past few years, many influencers on Youtube have boasted about their ability to make Shopify sales fast and have motivated thousands to do the same in the process. Unfortunately, what these influencers don't tell you is that their success is not typical and not everyone will build a success Shopify store. The truth is, like every other business, Shopify requires hard work, creativity, and thinking outside the box to make it work. Simply opening a store and waiting for sales just won't cut it.
That is not to say that there are no success stories. There are many who have taken a leap of faith and are crushing their competition and making tones of sales daily. They are also those who have started a Shopify store and are struggling to make sales.
For those struggling to makes sales this shouldn't come as a shock. Selling on Shopify is almost like an art form that you have to master. It takes lots of trial and error, and a knowledge of your audience needs in order to be successful.
There are no shortcuts to increase your Shopify sales but there are a few tools you can use to help you do so.
In this article, we will explore some of the most underrate methods successful Shopify businesses us to help increase their Shopify sales fast. When used together, these methods can help you create a sales machine that will help you attract more customers and increase your sales in the process.
Here are the 10 underrated ways to increase Shopify sales fasts. Let's get started.
Abandon Cart Emails
If you do a lot of online shopping, you may recognize this clever strategy used by shop owners to get customers to buy.
What are Abandon Cart Emails?
So what are Abandon cart emails? This strategy is best explained in a scenario. Say you are on a website and have found the items you use to buy. You add all your items to the cart and head over to the checkout to make put in your final details. All of sudden, you are distracted by something. It could be the price of shipping, perhaps you lost your credit card, high total price, or your pizza order just came. Whatever the distraction, you were forced to leave the items in the cart and exit out of the website.
A few hours (or days) later, you receive an email asking you to remember to finish your checkout and an additional 10% off to do so. You excitedly head over to the website and finish your purchase, taking advantage of the discount.
How does Abandon Cart Emails Work?
Abandon carts emails are one of the most effect strategies Shopify owners use to secure a sale from users. It relies on the idea that many customers can get distracted during checkout. Therefore it is up to you to kindly remind or reward them if you don't successfully complete their checkout.
Most people who use this strategy choose to give the customer an additional percentage of their cart, free shipping, or even a free item in exchange for completing the checkout. The idea is to get them to complete their checkout in order for you to squeeze in just one more sale.
How to Setup and Send Automatic Abandon Cart Emails in Shopify
If you want to implement this strategy into your store, here is a quick guide on how to setup your abandon cart emails to automatically send to customer who miss checkout.
From your Shopify admin, Click Settings.
Click Checkout from the side panel
Scroll down to the Abandon Checkout Emails section
Select "Send abandoned checkout emails automatically"
Select who to Send to
Select when to send after
Click "Customize email" and customize the checkout email
Be sure to include any promotions such as discount code in the email for customers to use
Once setup, customers will receive an email if they close out of your site before completing checkout.
Upsells and Cross-sells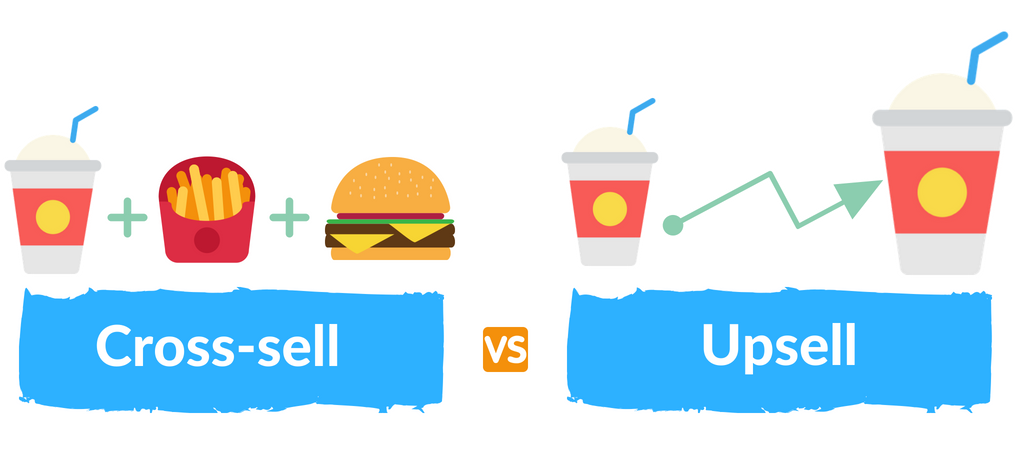 Upselling and cross-selling are great strategy to use to get more sales on your Shopify store. This is especially true if your Shopify store has complementary items that go well with each other.
What are Upsells?
Upselling and cross-selling are strategies Shopify owners use to get customers to add more than 1 item to the cart or buy a bigger version of an item. It is sometimes known as cross-selling. It involves persuading customers to purchase more expensive items, upgrades or additional features. The strategy relies on the idea that your order is not 100% satisfactory with the items already in your cart.
You may have experienced upselling when doing some online shopping. Apple does this very well with their iPhones especially now that it doesn't have earphone jacks. Say you go on an electronic store and decide to buy a iPhone. Since there is no headphone jack, an upsell would be to buy the additional $100 Bluetooth earphone if you wish to listen to music privately or converse hand free on your device.
This classic example of upselling is used today in many Shopify stores.
How Do Upsells and cross-selling Work?
As previously mentioned, Upselling relies on the idea that the items in your cart is not 100% satisfactory unless you add a few more items. Typically the items you add go well or enhance the items already in your cart.
Upselling can be done in many ways, but there are 3 tried and true methods that are most effective.
The first method is to offer a bundle of products or services. This includes offering a customer the opportunity to purchase additional items at the same price they are paying for their initial order.
The second method is to offer an upgraded version of what they originally wanted. For example, if someone buys a shirt and you have it in different sizes, you could offer them the opportunity to buy an upgraded size for the same price as their original purchase.
The third method is to offer complementary items that go well with what they are purchasing. For example, if someone bought a women's black dress and you have a red dress in stock, you could offer them an opportunity to buy the red dress at half-price.
These strategies make upselling a sure way to increase sales on Shopify.
How to Setup Upsells in Shopify using UFE Cross Sell & Upsell Bundle
Unfortunately, Shopify does not have a built in feature to offer close selling. However, there are many apps in the Shopify store that can be used to upsell.
The best upsell or cross selling app on Shopify is UFE Cross Sell & Upsell Bundle. The app is free to use but also has a paid plan to use more of their feature. For most people, the free version will be satisfactory.
Here is how to setup upsells or cross-selling using the UFE Cross Sell & Upsell Bundle app on Shopify
Select Trigger: Click on Create Funnel button and select trigger products / collections / tags.
Select the Page: Select the page you want to place the widget
Create offer widget: Click on + Add Widget and leave the default options for now and click Continue
Add offer products: Select the offer products (the products you want to give for offer price). Also specify how much discount you want to give to the offer product
Publish the Funnel: Click Save & Publish to publish the funnel.
Once set up, the Upsell feature will show up on the pages you chose during the setup. This will allow customers to seamlessly add items to their cart while shopping.
Popups
Popups can be annoying and we all hate them. However, if used properly, popups can be a very effective marketing tool to increase Shopify sales. They can be used for many different purposes, such as displaying coupons, promoting sales, or getting feedback from customers. They are a great way to capture leads and engage with customers.
What are Popups?
A popup is a type of web page that appears on top of a web browser window, either when the user opens a new browser window or tab, or when the user clicks on an element in the original web page. Pop-ups can be used to provide information such as an offer, or it may make use of the user's location to provide services or content specific to the locale. They are also used as forms of advertising, product demos and service announcements.
Popups have become increasingly common in many forms of media, including websites, TV shows, mobile apps and games. Pop-ups are often used in advertising to provide product demos or offer promotions. They may also be used to provide services and content specific to the locale of the user.
How Do Popups Work?
Popups works based on a user's interaction with an element on the website. They can be triggered by various events including:
on the page load
when a user clicks on a link without following the link in their browser's history
when a user clicks on an element in their original tab
after browsing on the website for a certain amount of time
after scrolling down a certain percentage of a page
just before you exit the webpage
on top of windows that were not opened by the user calling up those windows.
Once a popup is triggered, the customer viewing the popup can either close the pop up or take an action described in the popup.
Typical popup actions include collecting emails to send discounts, promotional announcements, giving out discount codes, and more.
How to Setup a Popup in Shopify using Mailmunch
Like Upsells, Shopify does not have a built-in reader that allows shop owners to create popups. In order to create a pop up in Shopify, user can use a third part app.
Mailmunch is a one of the best free popup apps for Shopify. It is free to use but has a paid option for those who want more features.
Here is how to create a popup on your Shopify page using Mailmunch app:
Navigate to your Mailmunch menu bar items on the homepage and select Campaigns.
Click on the Create New Campaign button present in the top right corner of your screen.
Click on the Form/Popup optionfrom the different campaign types displayed.
Select Popover from the different form types displayed.
Browse through a variety of eye-catching templates. Hover over the template and click on the button which mentions Use Template in order to select it.
Give a form title that describes your new campaign and select or create a list to add the subscribers from this form to. Click on the Start Building button.
Design your campaign, and customize the template to your liking.
To publish your form, toggle the PUBLISH FORM button. Click on FINISH to activate your form.
That's it! Your Popover form is now ready, it will be displayed to your visitors on page load or exit depending on your Behavior settings.
The Mailmunch popup allows for many customizations to suit your business needs.
Newsletters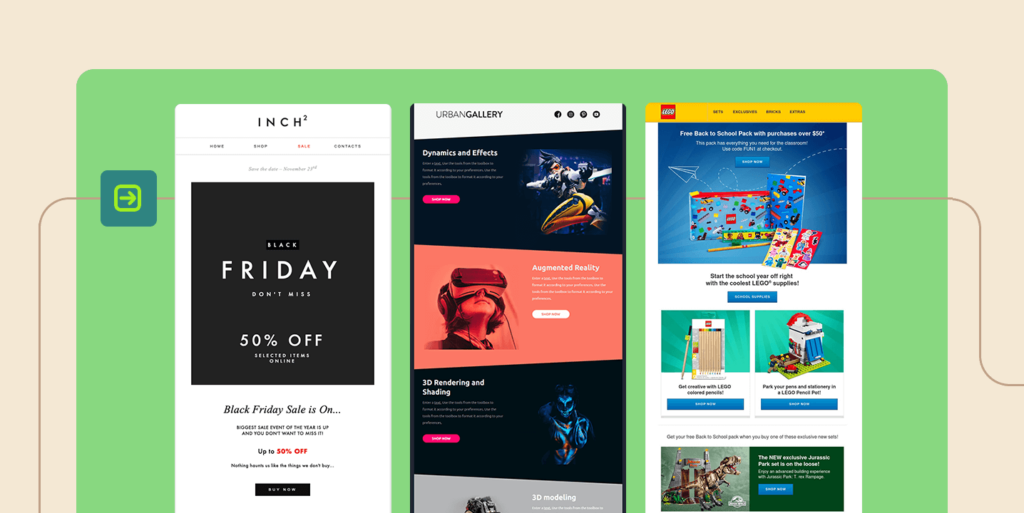 If you have received an email from a company advertising as sale or announcement at a store you visited, chances are that you have seen a newsletters. Newsletters are widely used by businesses to make announcements to a large amount of individuals at once. If you are looking to increase your Shopify sales quickly, it is definitely a must have tool in your arsenal.
What is a Newsletter?
A Newsletter typically comes in the form of an email. It is a message from store owners to customers, informing them about important updates about your Shopify store.
If a newsletter requires an action, it will typically have a call to action button such as a "buy now" or "shop now" button informing customer to take a particular action in the letter.
Some of the most common newsletters sent out by Shopify owners to customers include:
Promotional Sales newsletters
Updates of new products in the store
Holiday Special announcement newsletters
Store update newsletters
How do Newsletters Work?
Newsletters work by informing clients and keeps them engaged, especially after they make a purchase. Typically after a customer makes a purchase, the chances of them coming to your store is slim to none. This is why newsletters are so important. They act as a gentle nudge to come back into the store especially after a long period of inactivity.
There a are a few ways in which newsletters can be sent. Some may choose to send them as a series of emails describing different aspects of the business. Others may choose to send them periodically for significant announcements. Whatever method you choose, the newsletters should be informative or engaging to the customers. Otherwise, many may view it as spam and block such as email. This may result in unhappy customers.
How to Setup a Newsletter in Shopify?
Shopify has a built-in newsletter feature in its design that owners can use to send visually appealing newsletters. The built-in newsletter is connected to Shopify contacts and allows owners to seamlessly send thousands of emails at once to customers.
Here is how to send newsletters to customers on Shopify:
Go to Shopify app store and install the Email App.
Find the theme that you want to edit, and then click Customize.
Click Add section.
Click Newsletter, then click Add.
Enter a heading for your newsletter signup. For example, "Subscribe to our newsletter".
In the subheading field, enter a short description of what your customer will receive by subscribing.
Click Save.
Influencers
Nowadays, everyone is an influencer, and with good reason. Influencers have helped many businesses obtain their first sales and millions more based on a few posts on their social media. As their name suggests, they have the influence to sway and convince individuals to make a purchase and could greatly benefit from having them as part of your marketing strategy.
What is an Influencer?
An Influencer is a person on social media, typically with a large group of followers. They typically have expertise in a specific niche which allows them to provide content, educating, entertaining or informing their followers about that specific topic. Their influence is so great that their followers are usually loyal and are significantly swayed by decisions that the influencer makes.
Influencers can be found on Tiktok, Instagram, Facebook, Pinterest and Youtube. On these platforms, a good way to determine if someone is an influencer is by looking at the person or groups number of followers, likes, and comments. Typically those with very engaging content (content with unusually large amounts of likes and comments) and high amounts of followers, can be considered influencers on these platforms.
How do Influencers Work?
Influencers work by recommending items to their followers. These items could be things they have already used or items they have been asked to recommend.
Typically, influencers work on commission and will usually recommend a product if they are paid to do so. They fee for each influencer varies based on a few factors. This may include, the amount of followers they have and the engagement of their followers.
How to Setup Influencer Marketing in Shopify?
Influencer marketing can be used with Shopify to generate sales quickly. In order to do this, your business must have a niche. Finding influencers is a lot easier once a niche is established for your business.
For those looking to use influencer marketing to make sales fast on Shopify, here is how to do so:
Figure out your business niche
Using Instagram, Tiktok, or Youtube, find emails of influencers. It is best to create an excel list to keep track
Generate a draft email with a proposition for the influencers. This should include what you want the influencers to do and asking them what they want in exchange
Send the emails to the influencers. If you are feeling ambitious, you can also call them if they have a phone number to contact them with
If they reply agreeing to provide promotions for your product, ship your product to them as soon as possible and also complete the form of payment if any, that they requested
Product Blogs
For looking to be found on search engines such as Google, Yahoo, or Bing, writing a product blog is a great idea. Blogs are typically how your website is found by others organically and writing a product blog can help you do that. If done properly, a product blog can provide recurring sales from unique customers on a daily basis.
What is a Product Blog?
A product blog is a type of content which has its content in the form of articles or posts. A blog can be either personal or company-related, and it can have a wide range of topics, from cooking to politics. Blogs are usually updated on a regular basis with new posts, and readers can leave comments on individual posts. Blogs may also have links to other blogs that the reader might find interesting.
A product blog does well to inform customers of how a particular product solves a problem. They can be written in list form or in an informative way. Product blogs typically do well to entice or convices readers to buy the product the blog is about.
How Product Blogs Work?
Product blogs work because readers are also looking to be convinced about a product before buying it. Writing about what your product's problem and making it clear how it will solve the reader's problem is a sure way to attract loyal customers to your brand.
Typically, these blogs have a popup or section where readers can subscribe. Those who subscribe typically look forward to more content about how your product will benefit them. This is a great opportunity for your business to send product updates on an ongoing basis in order to reap future sales.
How to Create a Product Blog in Shopify
Shopify has a built in section where you can add a blog to your store. This is where you can write your product blogs.
Here is how to add a blog to your Shopify store
From your Shopify admin, click Settings > Apps and sales channels.
From the Apps and sales channels page, click Online store.
Click Open sales channel.
Click Blog Posts.
Click Create blog post.
In the Title field, enter a title for your blog post.
In the Content field, enter content for your blog post.
In the Organization section, from the Blog drop-down menu, select Create a new blog.
In the Blog title field, enter a title for the blog.
Click Save.
From here, you can add as many blog posts as you wish.
Reviews
Reviews are a great way to build buying confidence in your product. They are also great for providing feedback (good or bad) on how to improve your product. Having a review system as part of your shopify store is a sure way to increase sales.
What are Reviews?
Reviews messages written by buyers about your product. They may be ask short as a few sentence or as long as a few paragraph. Typically, when a customer's leaves a review about a product, it their way of showing appreciation for your product or a dissatisfaction for it. In either case, these reviews are typically seen by other buys and influence their buying power.
Some opt to not add reviews as they would rather not see negative feedback. However this strategy may cause customers to hesitate in their purchases as they may not be sure if the product will satify their needs.
How Reviews Work?
Store reviews work by building trust and confidence in customers. If a customer ends up on your store and sees reviews by others who have used your product, they may be more inclined to buy. This is because reviews serve as a gage to see if they item is well worth their money.
The more positive reviews a product has, the more sales it is more likely to make in the future. The less positive reviews a product has the less sales it will make in the future.
For those products that have bad reviews, it is a good idea to review these items and working on improving the product based on the feedback.
How to Add Customer Review for your Shopify Store
Unfortunately, Shopify does not have a customer review module in its section. In this case, you will need to use a their part customer review app for your shopify store.
Here are the best customer review app on shopify
Rivyo Product Review – Display product reviews, questions and answers, and boost your sale.
Product Reviews – Shopify Product reviews allows you to add a customer review feature to your products. This provides a way for your customers to engage with you, as well as each other to encourage sales.
Judge.me Product Reviews – Judge.me helps you collect and display star ratings and reviews about your products and Shopify store. Social proof from reviews and other user-generated content like photos and videos increases your conversion rate, organic traffic, and buyer engagement. Our photo and video reviews are free!
Loox Product Reviews and Pictures – Read why Shopify & Shopify Plus merchants use Loox to build trust on auto pilot, encourage referrals, increase customer retention and boost sales.
Automizely Product Reviews App – Display Authentic Product Reviews with Photos and Videos on your Shopify store with Automizely Reviews!
Realtime Social Proof
Social proof allows you to see other people's activities on your Shopify store in real time.
What is Social Proof Marketing?
Social proof is the psychological phenomenon where people are influenced by the actions of others. Social proof is often used to make a decision in a risky situation. For example, if someone sees other people eating at a restaurant and enjoying it, they might be more inclined to go there themselves.
How Social Proof Works?
Social proof uses a scarcity tactic to entice customers to buy. The marketers will show the consumers how many other people have already purchased the product or service and believe in it. This gives the consumer more confidence in their decision and can sometimes even make them feel like they are missing out on something if they don't purchase it too.
In marketing and advertising, social proof is used to persuade consumers that other people like or use a product or service. This can be done through testimonials, reviews, ratings and media coverage.
How to Setup Social Proof on Shopify?
Shopify does not have a social proof feature built into it but you can use third part apps for this feature. Here are some of the best social proof aps on Shopify
Social Proof+Sales Pop Nudges – Nudgify increases your sales & conversions with Sales Pop, Sales Boost, Social Proof notifications & FOMO Nudges. Show Recent Sales (sales pop), Low Stock (order soon), Free delivery pop-up, Discount Nudges. Because Nudges show your customers REAL data from your store, they create irresistible Social Proof, Urgency and Scarcity. It's automatic!
ONE – Upsell—Pop Ups—Email Marketing – ONE integrates 18 powerful conversion & marketing tactics into onestore making the customer experience feel more personalized.
Sales Popup Free Shipping Bar – Sales popups create urgency and allow you to show your visitors what items have been bought recently. It creates social proof & trust with trust badges that your store needs among new store visitors. You can also reduce friction with quick view of products on store.
Proof Bear ‑ Sales Popups – Boost sales by providing your shoppers with social proof of recent sales. Our innovative sales popup notifications and add to cart sales popup notifications leverage FOMO to generate more sales and help you boost your conversion rates.
POP! Sales & Live Activity Pop – POP! Sales Popup shows you're an authentic store. It shows people trust you. It shows your store is busy. Most importantly, it shows people want your products. In a world where FOMO (fear of missing out) is top of the consumer's mind, giving them the chance to see in real-time what others have purchased makes the customer jump on the bandwagon too.
Guarantees
Guarantees are another way to build buying confidence in customers. If your shoplift store does extremely well in a certain area, make in known for customers to see by using guarantees.
What are Guarantees?
Product guarantee is a promise made by the manufacturer, retailer or seller that the product will meet certain standards of quality.
Product guarantees are usually covered under the terms and conditions of a contract between the buyer and seller. The terms may vary depending on how much risk the manufacturer wants to take on and how much they want to protect themselves from potential damages that could happen after purchase.
How Guarantees Work?
The product guarantee is an important part of a company's marketing strategy. It can be used to attract customers and to increase sales. It can also help with customer retention, which is an important aspect of any business.
When customers see product guarantees on your product or website, they are more like to buy your product with peace of mind. This is because if anything goes wrong with the product a customer can use the guarantee to rectify the issue.
How to Setup a Guarantee in Shopify?
You can setup a guarantee on Shopify by adding them on your webpage. Specifically, you want to add them in a place where visitors can readily see it. This may including adding it as a popup or as a banner.
In additional to setting up your guarantee, you may also want to update your policy page to include language regarding the guarantee that visitors should be aware off. This way, you are covered for any reasons that guarantee may be interpreted.
Free Shipping
No one wants to pay for shipping and therefore, finding a way to offer free shipping can be very beneficial to your business.
What is Free Shipping?
Free shipping is just that, an incentive where business owners take on the cost of shipping so that customers do not have to pay for it. Free shipping is a great idea for many businesses because it is the single most deterrent of people saying no to purchase a product.
Picture this situation. A customer wants to buy a pair of swimming shorts and finds a Shopify store that sells the shorts at a fair price, let's say $20. The customer decides to add the item to the cart and head over to the checkout. After keying in his information, the customer sees that it will cost him an additional $8 – $12 just to ship the shorts. In this situation, almost everyone would agree that a pair of swimming shorts is not worth $30 – $35. In most cases, most people will leave to the store to find a more affordable option.
This is why offering free shipping can be a powerful tool to retain customers.
How Free Shipping Work?
Free shipping works by putting customer's minds at ease during checkout. When customers add items to the cart and make it to the checkout, they typically don't expect to pay anything more.
Of course depending on the type of item, shipping may be required. However, something to think about is how to reallocate or cut down on the shipping cost.
One strategy may be to add the shipping price to the actual price of the item. This way the customer still pays for the shipping price and their mind is still at easy because they don't have to worry about additional fees at checkout.
Another way to offer free shipping is by finding cheaper shipping alternatives. Cheaper shipping alternatives will help you reduce your shipping cost which you can later add to the actual cost of the product.
Lastly, you can offer free shipping for items of certain prices. For example is an item is priced over a certain amount, you can give customers the option to buy the item without a shipping price. This is great if you sell high priced items.
How to Setup Free Shipping Shopify
Shopify allows you easily modify your shipping rates with multiple options and settings. You can set up free shipping based on orders over a certain value, for certain customers, or on orders over a certain weight.
Here is how to set up free shipping in Shopify:
Set default free shipping rate
You can set a default free shipping rate on all orders. This method makes managing your shipping rates easier, and still lets you add additional paid shipping rates for certain products or orders over certain values or weights.
Go to Shopify admin, then Settings > Shipping and delivery.
Next to General shipping rates, click Manage.
For each shipping zone, add the free shipping rate:
Click Add rate.
Enter the name for the rate.
Set the value of the Price field to 0.
Click Done, and Save.
Free shipping over a certain value
You can also offer free shopping for items over a certain price value. For example, you can offer free shipping for prices over $85. Here is how to do this:
Go to Shopify admin, then Settings > Shipping and delivery.
Next to the shipping profile where you want to add a free shipping rate, click Manage.
Add the shipping rate to each shipping zone where you want the free shipping rate:
Click Add rate.
Enter the name for the rate.
Make sure that the value of the Price field is 0.
Click Add conditions.
Select Based on order price.
Enter a minimum price.
Click Done.
Click Save.
Free shipping over a certain weight
Shopify has the ability to offer free shipping on orders based on their size using a weight-based condition. Here is how to do this:
From your Shopify admin, go to Settings > Shipping and delivery.
Next to the shipping profile where you want to add a free shipping rate, click Manage.
Add the shipping rate to each shipping zone where you want the free shipping rate:
Click Add rate.
Enter the name for the rate.
Make sure that the value of the Price field is 0.
Click Add conditions.
Select Based on item weight.
Enter a minimum weight.
Click Done.
Click Save.
Free shipping for specific products
You can add a free shipping rate that applies only to certain products. Before you start, you need to create a custom shipping profile with products on which you want to offer free shipping.
Steps:
From your Shopify admin, go to Settings > Shipping and delivery.
Next to the shipping profile where you want to add a free shipping rate, click Manage.
Next to the zone where you want to add a free shipping rate, click Add rate.
Enter the name for the rate.
Make sure that the value of the Price field is 0.
Optional: Add weight-based or value-based conditions.
Click Add conditions.
Select whether to base the condition on order weight or value.
Enter the minimum and maximum value for the condition.
Click Done, and then click Save.
Free shipping for specific customers
You can also offer free shipping to specific customers with discount codes. Customers who receive and use that discount at checkout, can get free shipping.
Conclusion to Way to Increase Shopify Sales Fast
When choosing a method to increase your Shopify sales, it is important to note that not one method will provide the results you need. Instead, it is best to use multiple methods on your Shopify store in order to achieve great success. If you use these method and find you are still not getting sales, you may want to seek some extra help.
At Paperless Books, we offer ways to assess your business health, by assessing your financial reports. If you are a business owner in Canada are looking for a detailed analysis of your business finances, contact us here for a free consultation call.
Originally posted on September 27, 2022 @ 12:04 am