Meet the Owner
Hi! My name is Victoria and I'm a licensed paralegal in the province of Ontario. I started Oduraa Legal Services a few months after I became licensed in the hopes of attaining my own clients and working for myself. I specialize in small claims court matters, contract law, and landlord and tenant board matters. My goal is to assist clients who come from all walks of life, aiming to provide accessible and affordable legal help to all.
The Idea
How/Why did you come up with the idea?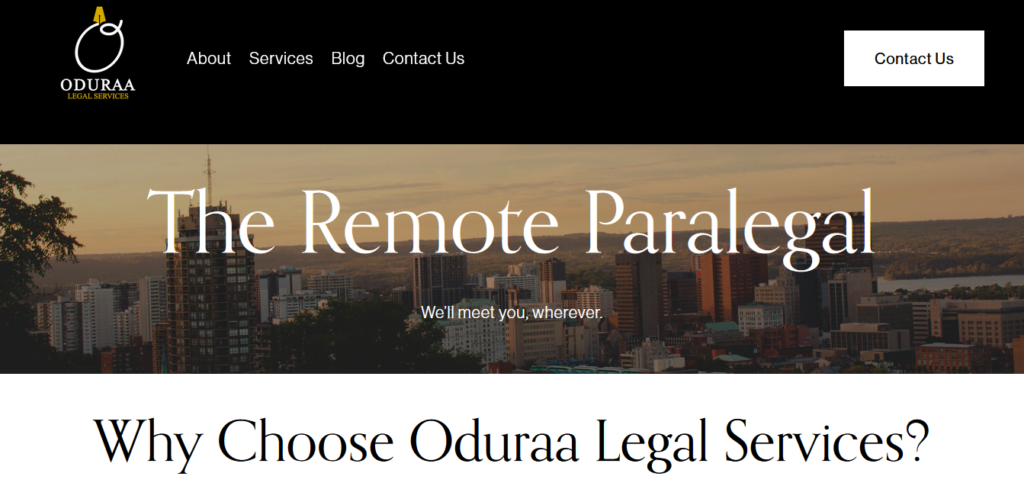 During my paralegal schooling, I knew I would eventually want to open up my own business and be an entrepreneur. I enjoy practicing law and also enjoy being able to connect with individuals regularly. As previously mentioned, I aim to help those who may not be able to easily access legal assistance. The law can be intimidating and I hope I can remove that layer of the "unknown" each time I help a client.
Launching the Business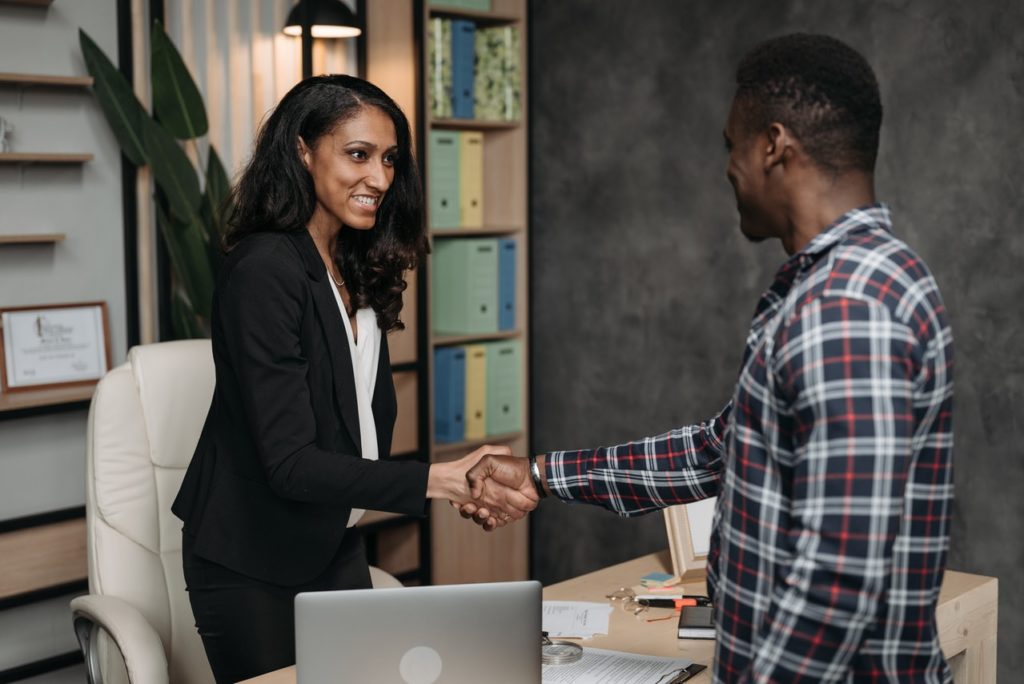 When did you launch?
I launched Oduraa Legal Services in 2020. I acquired my errors and omissions insurance, registered my business in Ontario and then started creating a website for my services. I also had business cards made so that I could meet individuals one-on-one. Once my site was complete, I felt confident to officially launch my business.
How did you get your first sale?
I started by offering commissioning and notarizing services to clients. I advertised my services on Kijiji and also on paralegal association sites that offered a directory. Commissioning documents is a quick and easy way to meet clients and make a sale because the process from start to finish is incredibly fast. After meeting with my first client and providing commissioning services to them, I gave them my business card and encouraged them to spread the word.
Growing the Business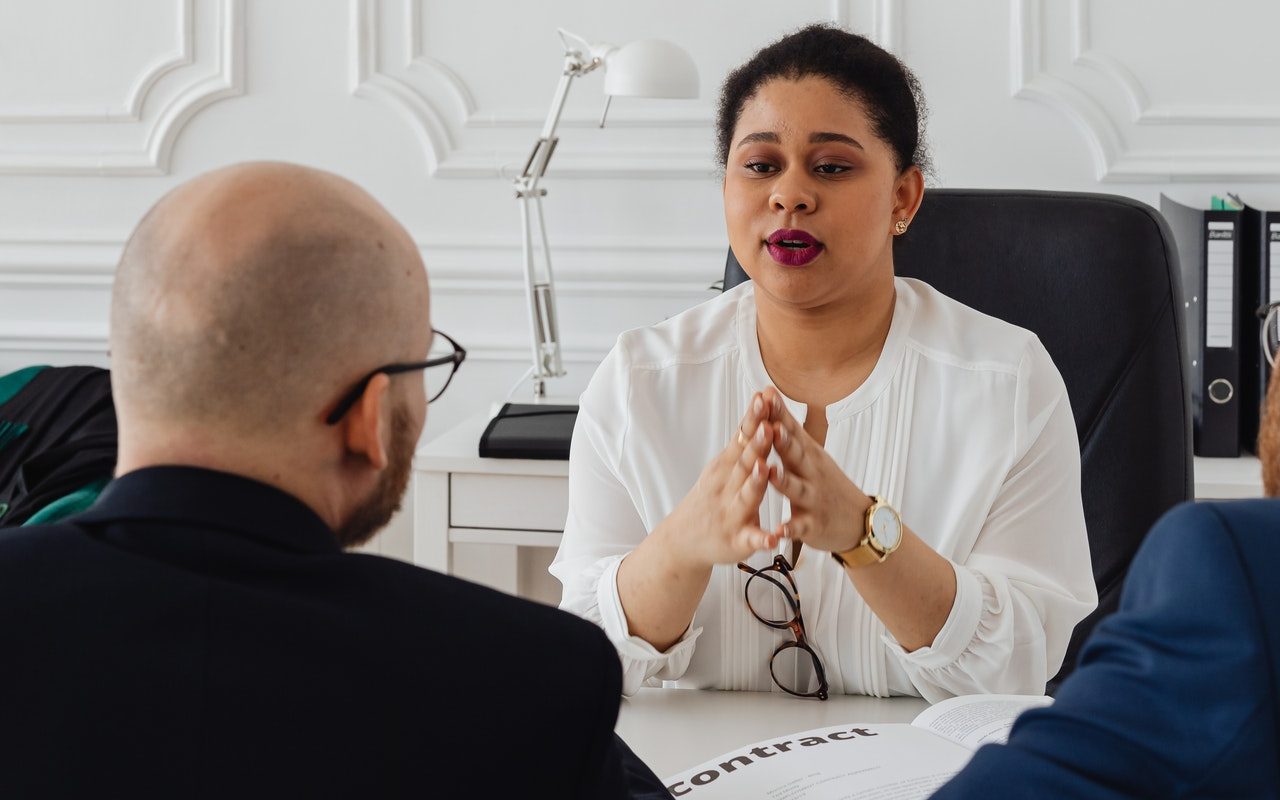 What were the challenges in growing the business?
One of the biggest challenges I faced in growing my business was acquiring clients. The legal field is quite saturated so at times, it is difficult to stand out and find clients organically. It was also difficult to market my business. Although I had my website and business cards, most other forms of advertising and marketing ran expensive if targeted ads were not orchestrated properly.
What were your strategies in growing the business?
At first, I attempted to use Google ads and Kijiji to get my business and services out there. However, when I found that the ads were costing me more than they were yielding, I turned to more organic strategies. I uploaded my business profile to Fiverr (a freelancer site) and offered my services there. I would highly recommend Fiverr because you're able to customize your services to the needs of a client and also get your name out there easily. Fiverr handles collection of payment which streamlines the process immensely.
I also revamped my site and began blogging. Through my blogs, I was able to address legal questions many clients had and provide them with informative answers. By blogging more, I was able to address the specific areas of law I practice in and thus, encourage clients to contact me for help. I also put my business on the directories of legal associations. Lastly, I asked family and friends to spread the word! You never know when someone is in need of a paralegal.
Future of the Business
What does the future hold for your business?
I hope to further expand and acquire more clients in the future. Once I solidify my knowledge in the specialized areas of laws that I practice, I plan to venture into other areas of law that I can learn and provide assistance in. I am currently a sole proprietor so if the opportunity presents itself, I wouldn't be opposed to incorporating my business! I'm excited about the future!
Advice for other Business Owners
KEEP GOING 🙂 Starting and running a business can feel like you're on an emotional roller coaster at times. There may be times when you get 0 clients and times when business is absolutely booming. It's important to learn how to ebb & flow throughout it all. Learn from your hardships and always give yourself grace…the journey is life changing!
How to Start a Paralegal Business in Canada according to Oduraa Paralegal Services
A Paralegal is a person who has an undergraduate degree or a postgraduate degree in law and can be self-employed, employed by a lawyer, law firm or legal department of an organization. The main responsibility of a paralegal in Canada is to assist a lawyer in providing legal services to their clientele.
The duties of paralegals may include:
Drafting documents for clients
Conducting research for lawyers
Drafting motions and other pleadings
Managing files and records
Preparing evidence for trial
If you have an interest in upholding the law and starting your own legal business, being a paralegal might be perfect for you. Here is how to start your own paralegal business.
Become a Paralegal
Before starting a paralegal business, you need to first become a paralegal. Different provinces have difference requirements. In Ontario, the governing body regulating paralegals is the Law Society of Ontario.
For Ontarians, being a paralegal requires completing an accredited paralegal program as well as 120 placement hours. Following this, you have to apply to the licensing process which consist of 3 parts – the licensing examination, good character requirement and an application for your P1 (paralegal) license. Once all these 3 requirements are met and you receive your license, you are deemed a paralegal and you can provide legal services in Ontario.
Select a Niche for your Paralegal Business
Although paralegals have many roles, it is best to pick a niche for your paralegal business. This will help narrow down your advertisement and clients to target.
Some of the best and profitable paralegal businesses include:
Landlord and Tenant matters
Contract drafting and review
Commissioning and notarizing
Business law
Estate planning law
Intellectual property law
Immigration law
Family law
Come up with a Business Name
Once you have identified the area you want to specialize in, you can now begin coming with a catchy name for the business. Most paralegals use names that convey authority, confidence and strength. This is because legal issues are a serious matter and as a paralegal, you want to convey that same message to your clients.
To help you find paralegal business names in Canada, you can use the following tools:
Namelix
BusinessNameGenerator
Wix Business Name Generator
Build a Website for your Paralegal Business
Building a website for your paralegal business is important to establish yourself on Google and be found by others.
The best website builders for paralegal businesses in Canada are:
WordPress.org
WordPress.com
Wix.com
Out of the 3 website builders mentioned above, WordPress.com and Wix.com are the best website builders for services businesses like a paralegal business as they only require a small subscription fee to create the site. WordPress.org, although free, does require some knowledge on website design to build a satisfactory website.
In order to completely build your website you also need to create a domain for the site. For service businesses it is best to create a domain that ends in .ca. Sites that end in .ca are made for Canadian and typically only reach a Canadian audience. Since your paralegal license only allows you to be a paralegal in the province in which you are registered, it is important to keep this in mind in order to attract the right clients for the business.
Marketing for Paralegal Businesses
Paralegals can utilize a few resources to market their business. Depending on your niche, you may have to market solely towards businesses or everyday consumers. The most profitable market for Paralegal businesses are other businesses seeking such services.
Here are some marketing ideas for paralegal businesses:
1) Fiverr: Fiverr is an online platform for businesses to find freelancers and contractors. As a paralegal business, you can advertise your business on the platform for other to use your services. Many businesses have had success using Fiverr to acquire their first and subsequent clients.
2) Social Media: LinkedIn is probably one of the best marketing tools for paralegal businesses. If your market is geared towards B2B, LinkedIn will help you connect with other business owners looking to use your service. LinkedIn also has paid advertising to narrow down your search and reach your desired target audience.
3) Blogs: Blogs are good advertising tools as they can be used by paralegal business to answer frequently asked questions. Depending on the value and depth of the blog, Google does well to promote blogs to be easily found on Google search.
4) Work with Law Firms: Working with law firms can greatly accelerate your search for clients as a Paralegal business. It is common for paralegals to team up with other lawyers who are looking for extra help or looking to outsource some of their work.
Growing Your Paralegal Business
Once you have started your paralegal business there are many opportunities available to grow it into a lucrative business. The approach you take to grow the business may depend on your business goals.
For most, transitioning from a paralegal into a Lawyer may be the best way to grow the business. This idea will help you attract more clients by opening up your scope of work. More specifically, it will allow you to represent clients in court which will greatly increase your value.
Originally posted 2023-01-07 20:44:26.