For most businesses, finding and choosing the best online bookkeeping software can be a headache. With so many online bookkeeping softwares in the market, how do you know which is right for your business?
This blog will look at two leading online cloud accounting / bookkeeping software that are used by many small, medium and large businesses in Canada. Xero and Wave Accounting have been proven to be reliable choices for Canadian businesses. But when it comes to bookkeeping, do they provide the same value?
Out of the two, choosing the right software for your business will depend on how your business operates now and how you want it to operate in the long-term.
This guide will break down the pros and cons of using Xero or Wave Accounting for your business.
We will touch on the following topics to make an informed decision about each online bookkeeping software:
Overview
Prices of Bookkeeping Software
Security
Cloud based or locally installed
Services
Record Keeping
Financial Reports
Customer Support
Integrations
By the end of this blog, you will know which bookkeeping software best fits your business needs.
Let's get started!
1. Overview
Xero
Xero was made for small, medium and some large businesses especially in retail, professional services, and online stores. It is more than capable of handling simple and complicated business transactions / activities.
I personally like Xero's customizable dashboard when you first log into your account. It is simple and easy to use and gives a great overview of your business activities.
The top panels of the dashboard have tabs to further dive into your business. There is the business tab, which allows you to manage invoices and expenses for your business. The accounting tab allows you to create and view financial reports. The projects tabs is great for freelancer and contractors who want to track time and work done. And lastly, a contacts tab to manage your contacts.
Xero also comes with a worldwide community of advisors that will answer any questions regarding the software.
Overall, Xero makes for a great affordable online bookkeeping software for small and medium sized businesses.
Wave Accounting (Wave Financial)
Wave Accounting is a free online accounting software built in Canada. When Wave Accounting was founded in Canada in 2009, the vision was to make business management simpler for small businesses. Small business owners generally have few transactions and components to their business. Wave Accounting wanted to compliment that with their simple and easy to use interface.
When you first log into Wave Accounting, you are greeted by a simple dashboard which gives you snap shot of your business health. Such snap shots include: connected bank accounts, cash flow reports, profit/loss report, net income report, expense breakdown, and a few quick links. It would be great if the dashboard could be customized to fit your business needs. But for what it provides, the information available in still useful.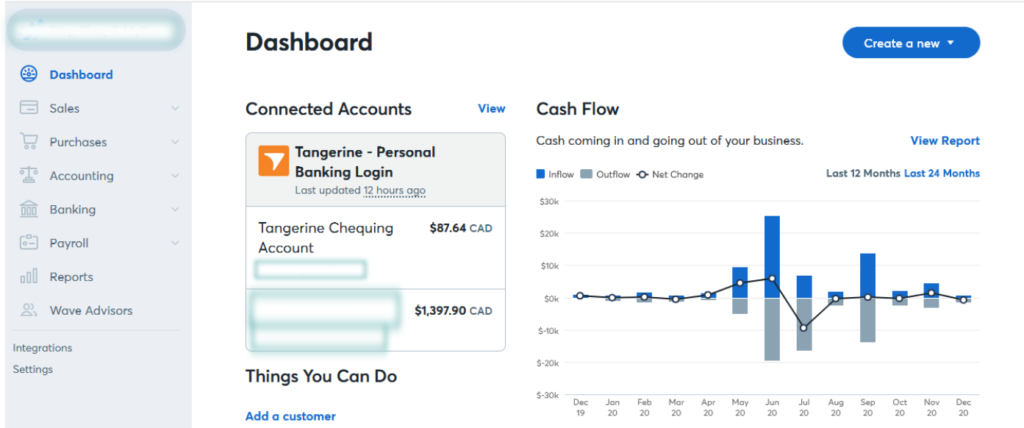 On the side panel of your Wave Accounting screen, you will find information and tools pertaining to all your business and bookkeeping activities needs such as: Sales, Purchases, Accounting, Payroll, Banking, Integrations, and Reports. They even have advisors that will help you with any questions you may have with bookkeeping or the software.
Small businesses and freelancers looking for a free online bookkeeping software will greatly benefit from Wave Accounting.
2. Price Plan for Bookkeeping Softwares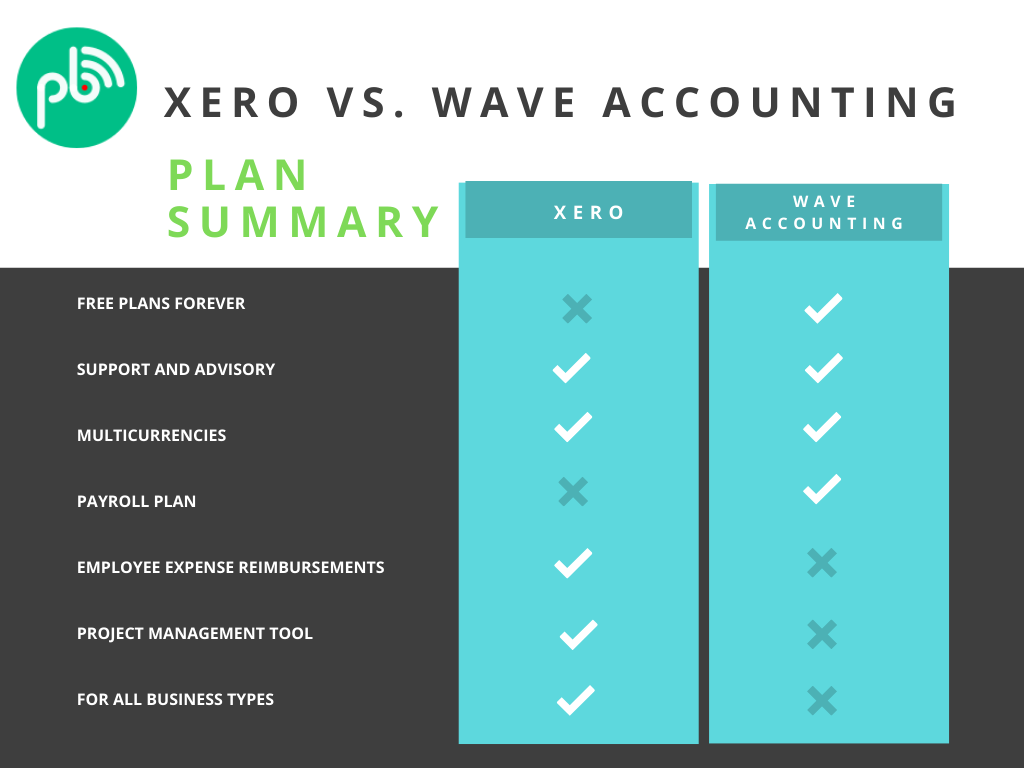 Price of Xero
Plans
Xero is free to try for one month and offers 3 affordable bookkeeping plans: the starter ($15 per month), standard ($40 per month), and premium plans ($52 per month).
The main difference between the starter and standard plan is your limitation of invoices, quotes and bills. For the starter plan, you are limited to sending 20 invoices and quotes, and entering 5 bills. However, these features are unlimited for the standard plan. Both the starter and standard plans, also limit your currency to only one.
The Standard Plan and and Premium plans only differ in the currencies you are allowed to use. For the standard plan, you are limited to online one currency. However, for the premium plan you are limited to unlimited currencies.
Local business start-ups in the first few months of business will benefit from Xero's starter plan or standard plans.
Businesses with an international component will benefit from Xero's premium plans.
Other Services
Outside of the plans, Xero also offers additional services for projects. This best serves businesses who provide services with multiple steps or components. This may include home renovation services, or project managers. The price for this is the sames across all plans at $10 for 1 user/month plus 7$ for each additional user per month.
Xero also offers Expense Reimbursement services. This is for businesses where employee are reimbursed for using their own money to buy company related items. This service helps track and pays back employees for these expenses. The expense service prices are the same for all plans at $5 for 1 user/month plus 5$ for each additional user per month.
Price of Wave Accounting
Plans
Wave Accounting is absolutely FREE for everything bookkeeping!
With this you get the following:
Ability to send unlimited invoices
Receive payments
Manage multiple currencies
Create and manage unlimited billing
Add bank accounts
For small businesses and freelancers looking for a quick and free fix to their bookkeeping, this may be the solution. With the free plan you can do as much (or even more) with Wave Accounting, compared to Xero.
The free plan does not come with expense or project services like Xero.
Other Services
In addition to the free plan, Wave Accounting also offers other services such as advisory, payment services and payroll.
The advisory is a time fee for $199 or you can request bookkeeping services for $129 per month.
The payment service allows for businesses to receive payments from customers in a few days. Like all payment services, Wave Accounting will change a fee per transactions.
Lastly, Wave Accounting offers a payroll services for which starts at a base fee of $20 per month.
3. Security
Both Wave Accounting and Xero take security very seriously. After all, they are responsible for holding and securing your private information as well as those of your customers. Here are things both Xero and Wave Accounting have to offer when it comes to data security:
PCI-DSS Compliance: meaning they have a third-party audits to validate their practices and make sure they are doing the right things for you and your customers.
Data Encryption: When you load a page in your browser, or upload something to the softwre, all that information is encrypted while it's moving over the internet.
Secure Storage Centres: The servers that store information are protected by robust 24/7 monitoring and strict access protocols.
To read more on Xero's security features, please visit here.
To read more on Wave Accounting's security features, please visit here.
4.

Cloud Based or Locally Installed
A cloud based based bookkeeping software means that the software is accessible anywhere there is an internet connection.
A locally installed means that the software has to be installed on a system because it can be used. It does not require an internet connection to use but it can only be used on the machine it is installed on.
Both Xero and Wave Accounting are cloud based meaning they can be accessed 24/7 without installation as long as there is an internet connections.
5. Services
Both Xero and Wave Accounting are neck in neck when it comes to the services they provide.
Invoicing
Xero and Wave Accounting have a well built invoicing system that allows users to create and send invoices to customers within seconds. This includes recurring invoices. They even have built in reminders for clients who may forget to pay their invoice
Xero does not have a built in payment system but can integrate other third party payment services (like Stripe) into their invoices.
Wave Accounting, on the other hand, has a built in payment system that allows customers to checkout as soon as they receive the invoice without a third party payment service provider.
Bill Management
Both softwares utilize a bill management system that allows users to track and manage bills.
What makes Xero unique from Wave Accounting when it comes to this is it's ability to do this automatically. Xero is capable of integrating with Hubdoc to retrieve, sort and record billing information into Xero automatically. It also allows user to input recurring bills.
One thing that would make both softwares exceptional is an ability to pay the invoices within the software.
Payroll
Having a payroll tool within your online bookkeeping software is like a dream come true. This is one advantage Wave Accounting has over Xero.
Wave Accounting's payroll allows you to run payroll in minutes for Canadian businesses. Here are it's features:
Pay independent contractors and employees, and generate T4 and T4-A forms for tax season.
Deposit payments directly into your employees' bank accounts, quickly and reliably. Less work for you, and your team will love it.
Keep compliant and save valuable time by having Wave handle your Canada Revenue Agency (CRA) tax remittances on your behalf.
Payroll software by Wave is seamlessly connected with the rest of your Wave account to reduce the time you spend on manual bookkeeping.
Your employees can log into Wave securely to access their pay stubs and T4s, and manage their contact and banking information.
When you switch from another payroll software, migrating your data is simple.
Although Xero does not have a built-in payroll system, it does allow you to integrate with other payroll sofwares such as WagePoint.
Track Inventory
Even though both Xero and Wave Accounting have an inventory tracking system, Xero's inventory tracker is far more reliable.
With Wave Accounting, tracking inventory can be tedious for those with lots of products as each has to be inputted manually.
Xero's inventory tracker allows users to import large amounts of inventory using an Excel template.
Receive Money for Services
As mentioned before, both Xero and Wave Accounting have the capability to accepts money from customers through invoices. In this aspect however, Wave Accounting does a better job at this.
Wave Apps has a portal where clients can login to pay any outstanding invoices and also track the receipts of previously paid invoices.
It is good to note that Xero unfortunately does not send receipts to clients automatically after they have been paid. This has to be done manually in the software.
As a side note, one thing that would make both softwares exceptional is an ability to pay the invoices within the software.
6. Record Keeping
Having an online bookkeeping software that automates record keeping is vital to saving time and going paperless. Both Wave Account and Xero have excellent record keeping capabilities.
Xero utilizes an email in which you can send any document to. This includes receipts, statements, and more. That email connects to your Xero files to securely store these documents to use as backups for receipts and for record keeping. You also have the option of directly uploading any document into the software to store. Xero provides unlimited storage for this.
Wave Accounting has a similar system as Xero but it takes it a step further by using it's app to upload documents. With the Wave Accounting app, users can also upload receipts into the software by taking a picture of the receipt.
7. Financial Reports
Both Xero and Wave Accounting provide financial reports that allow you to see your business activities. What make them differ is how these report are presented.
Wave Accounting provides simple, easy to understand reports, suitable for the individuals with limited to no accounting knowledge. Moreover, the reports cannot be customized to fit different reporting standards which means "what you see is what you get". This is not to say that the reports are not useful. They are many report options to choose from in order to make financial decisions and have an overview of your entire business. Wave Accounting reports includes:
Profit/Loss Statement
Balance Sheet
Cash Flow Statement
Sales Tax Report
Payroll Wage and Tax Report
Income by Costumer
Aged Receivables
Purchases by Vendor
Aged Payables
Account Balances
Trial Balance
General Ledger
As you can see from the list, there are many options for the average business owner to make informed decisions using the reports in Wave Accounting.
In contrast, Xero employs a more professional approach to their reports. Where as Wave Accounting allows only for no customization, Xero allows for full customization of financial reports. Users can use custom columns, formulas, text blocks and drag-and-drop accounts to edit the report to suit your business. They even have a feature where you can create default reports, so you can readily run them and get updates whenever you need to.
In addition to have the reports listed above and more, Xero also has a budget planner which allows users to better manage their money.
8. Customer Support
Unfortunately, Wave Accounting does not offer support unless it is paid for. Wave Accounting's customer support costs, $199 per year of $129 per month for the bookkeeping option. Don't be discouraged though, we offer onboarding help at an affordable price for those who want to use Wave Accounting. Click here for our bookkeeping plans.
Xero's customer support is built into the any plan you pay for.
Xero has advisors all over the world that can help you with the software or simple accounting issues.
Another thing that makes Xero stand out from Wave Accounting is their tutorials for every section of the software. No matter where you feel stuck in Xero, there is always something or someone to help you find a solution.
When it comes to customer support Wave Accounting seems to have a "we made this simple so you would need little to no help" approach. This in effect makes Xero's customer support better than Wave Accounting.
9. Integrations
A good online bookkeeping software is one that can integrate with other softwares. Both Wave Accounting and Xero have the capability to integrate with other software.
Xero has a market place full of business apps to integrate to.
Wave Accounting on the other hand, only has a few direct apps and allow most of the app integration with Zapier ( a third party integration software). For those who are not very tech saavy, connecting apps through Zapier can be a challenge as it involves a lot of tweaking to make sure your integration does exactly what you want it to do.
Verdict
In summary, Xero and Wave Accounting are both great tools for businesses looking for an affordable online bookkeeping solution.
Small businesses and freelancers, looking for a simple solution to bookkeeping will greatly benefit from Wave Accounting. Wave accounting is FREE, online based, has top notch security for the your finances and information, and will provide the minimum bookkeeping needs for your business.
Both small, medium, and some large companies can benefit from the benefits of Xero as their sole bookkeeping software. For the full affordable price of $50 per month, Xero provides everything and more in a bookkeeping software.
It is for the above reason why we pick Xero as the best online bookkeeping software in Canada for all businesses.
Originally posted 2022-12-25 00:17:37.